We offer professionals in Engineering, Maintenance and related professions access to ongoing CPD through our short courses. Our commitment to quality and professionalism is reflected by our high standards and supported by professional body membership. EHI offers both short courses and credit bearing programmes.
MERSETA
Effective Human Intervention has full Accreditation with merSETA
Accreditation Number: 17-QA/ACC/0603/11
​
ECSA - Engineering Council of South Africa (Recognised by SAQA as a Professional body)
Our courses are accredited by SAAMA and offers Continuous Professional Development (CPD) credits to participants who successfully complete our courses.
​
SAIOSH - Effective Human Intervention (Pty) Ltd is a registered member with the South African Institute of Occupational Safety & Health & offers CPD points on all safety related courses.
​
BBBEE Level 2 Contributor
​
​
​
​
​
​
​
Our diverse course selection is always in line with current legislation and covers a wide range of industry. Our compliance training refers to the process of educating employees on laws and regulations that apply to their day-to day job responsibilities, ensuring a safe working environment.
​
Categories list:
Management & Leadership
Maintenance Management
Electrical & Engineering
Mechanical & Engineering
Project Management & General
Workplace Safety
Automation & Instrumentation
Manufacturing & Production Management
Materials Management
Computer Training
Support (Soft Skills)
​
Click on the Course Categories Button for more information on the categories above or for a list of available courses
​
​
​
​
​
​
​
​
​
​
​
QUALIFICATION & SKILLS PROGRAMMES
Programmes on Offer
Short Courses
Immediate implementable skills - Certificate of Attendance
Skills Courses
Credit bearing courses - Certificate of Competence
​
Qualification
Production Technology 58779 NQF Level 4
Purpose
This qualification provides learners with the range of learning and skills required to be able to perform a series of activities to support Manufacturing, Engineering and Technology processes. Learners will acquire a range of skills in the identification of production parameters in Manufacturing, Engineering and Technology Industries and basic strategies to achieve them.
​
The qualifying learner will be able to:
Measure, control and improve factors influencing productivity.

Contribute to budgeting processes in an operational unit to optimise resources.

Solve operational problems in a production process.

Promote, implement and maintain procedures that support quality assurance and control.This qualification is the third qualification in a pathway of three (3) qualifications for learners in the production technology environment.
​
For a full list of available Unit Standards, download the Merseta Accreditation letter.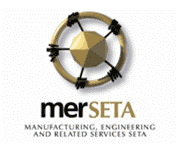 Training material printed by: Ingwenya Breeze
Contact Justice for your printing requirements.